Podcast: Play in new window | Download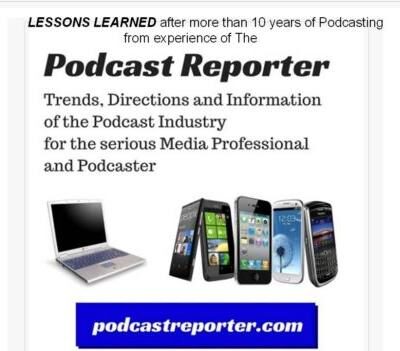 In this episode of The Podcast Reporter Show, we discuss the 5 strategies to succeed in podcasting for business growth. This was reviewed in an article by Ben Krueger of cashflowpodcasting called "Podcasting for Business growth: 5 Strategies to Succeed."
Now, as I have stated in several past episodes of this podcast show, I have known Ben since 2014, when we first met at the initial Podcast Movement conference in Dallas, Texas.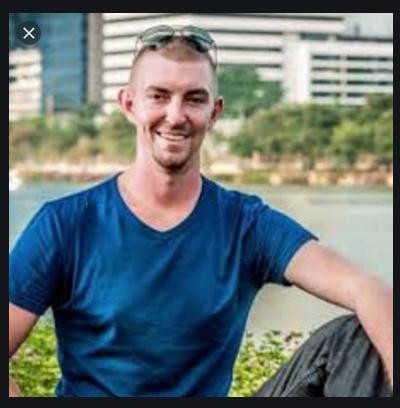 I feel that Ben has had great information for the newer and aspiring podcaster, especially with this free pdf files and his suggestions. In this case, he gives some sound advice to help you improve your direction at succeeding in growing your business via podcasting.
The main sections discussed in this article are the following (with details in each link to the section of the article):
---
Finding the right content for your podcast episodes in your show and having clear calls-to-actions are highlights of some of the mistakes that newer and aspiring podcasters make when starting out — especially in some cases where the podcaster decides to incorporate 5 or more calls-to-action in the episode (and then leaves the listener in a confusing direction). This can easily blur the right content for your show, as perhaps some of the calls-to-action may not fit the key messages in your content, thus making your podcast show look like an advertising billboard. And conventional wisdom may indicate that you may not want to go in this misdirection.
As the article indicates, podcast growth can be helped by placing you and your content and podcast as an AUTHORITY for the listener — and there are proven ways to do so. In fact, one of the earliest ways to do so was mentioned by an early podcaster, Paul Colligan, in which he described some of the steps in becoming a THOUGHT LEADER. In fact, we ourselves have had several episodes in the past that looked at what a true thought leader is, as well as the steps to becoming a trusted and accepted thought leader in podcasting. In fact, you may refer to episodes 412 and 513 of this podcast series, podcastreporter.com.
You will then see this chart with the steps to becoming a successful content creator: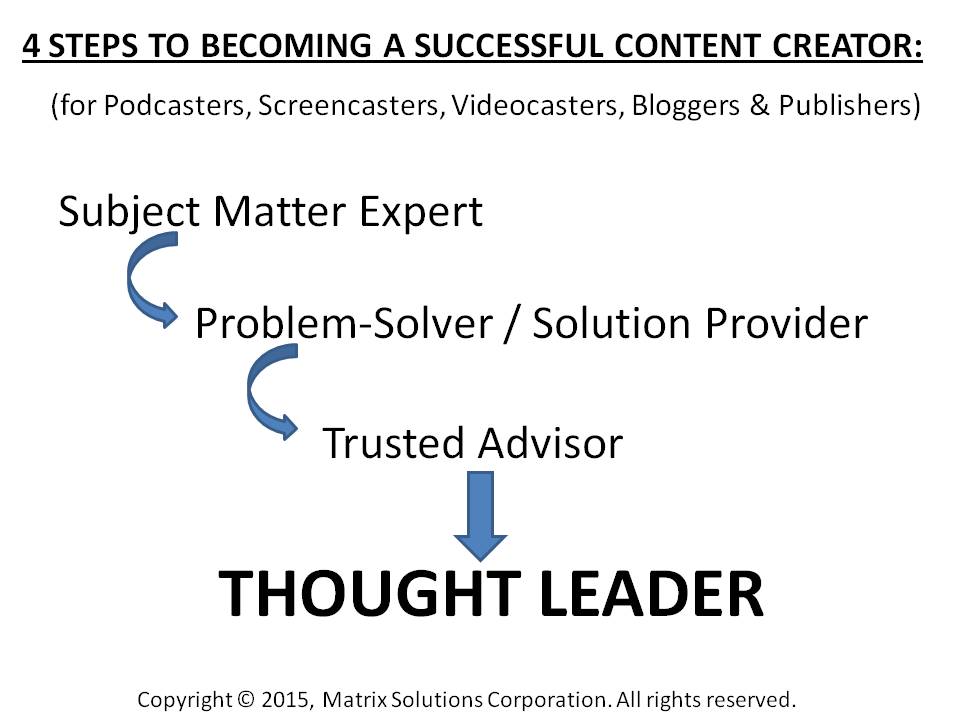 And you can also see some of the other interesting viewpoints from Ben that could possibly help your podcast for business grow with his suggested strategies.
We encourage you to review this content from Ben and see if these strategies can work for you — especially with his advice for definite, clear and non-confusing appropriate calls-to-action.
So we hope that you can accept this content as beneficial after your review, and we wish for you a quick path to making your business successful with good podcast strategies.
Thank you for your attention, and for listening.
Copyright (c) 2023, Matrix Solutions Corporation and michaelandmike.com and Ben Krueger of cashflowpodcasting.com. All rights reserved.