Podcast: Play in new window | Download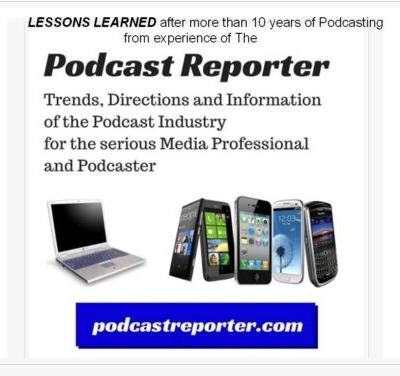 In this episode of The Podcast Reporter podcast show, we reflect on a podcast episode recently from Adam Curry of The No Agenda Show in which a description and perspective of a conference is delivered about the Podcast Movement Conference of 2022.
Needless to say, we encourage you to consume episode # 1480 from late August, 2022, starting at 3:00 minutes. There is a lengthy description of Adam Curry's attendance at the Podcast Movement Conference in Dallas, Texas.
In a different perspective, Adam told his truth about what he saw in the event — and how it has totally become different than the OPEN podcast events of the podosphere from the 2005 conference starting in Ontario, California. Now, the conference has become "woke-o-rama" and full of cancel-culture and repression of speakers and ideas, as well as censorship. What a sad thing this was to happen to what was once the last bastion of free speech.
I do not need to review all the negative things to which this event has reverted to. After all, I did participate and present at the very first Podcast Movement conference in 2014 in Dallas. And it was the event that did turn out initially to be the way that ex-founder Gary Leland had envisioned — that is, with the fervor, excitement and enthusiasm and openness for all podcasters and podosphere aficianados, but without any cancel culture, censorship or woke-ness.
And now, you can consume the episode from Adam Curry to see what the Podfather had experienced in this new woke-based event. I am sorry to hear it, and perhaps you will find it difficult to believe that it had turned into this type of event.
And I do believe Adam Curry much more so than I do the organizers and owners of the Podcast Movement conference (mainly because Gary Leland had sold his part of the movement in 2019).
Well, it is up to you to make up your minds to see if this is a turning point in open podcasting and if will be the beginning of the ruin of the podosphere. If so, then this should not be an event that I will support any more, as I do support the openness of the podosphere and podcasting.
Thank you for your attention.
Copyright (c) 2022, Matrix Solutions Corporation and michaelandmike.com. All rights reserved