Podcast: Play in new window | Download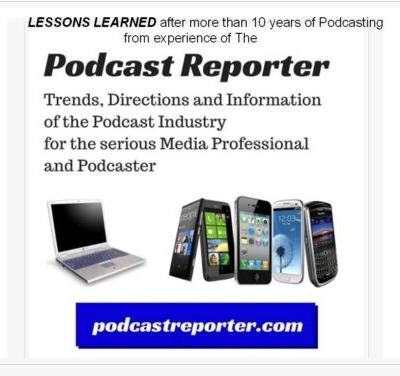 In this episode of The Podcast Reporter show, we deliver some suggestions for creating a podcast workflow for your show and its episodes. These came from a post at the following site of  rss.com/blog/:
And the post goes on to give you a sample workflow for creating an episode in your podcast show (assuming that you have your site ready and your content management system ready to take on your creative juices for constructing your content):
"Podcast episode ideation phase →
Decide on episode subject and search for guest possibilities →
Schedule interviews →
Write questions and/or outline of the episode →
Record the episode →
Edit the show →
Load episode to your podcast host to share with iTunes/Stitcher/Google Play etc …→ 
Begin promoting the show via social media, your email list, on your website, etc… → 
Your podcast workflow may look a little different, but hopefully, this gives you an idea of just how many pieces you'll have to manage for your show."
---
The post then addresses the reasons why managing your podcast workflow really does matter when you are creating content — mainly because it can become overwhelming to the aspiring podcaster and the newer podcasters (especially true if the latter are not full-time podcasters buy have a day-job or are treating the podcasting environment as a hobby).
And for this, the article explains that you will need a task-management tool to manage this:  "We recommend using a tool such as Trello, Asana, Monday.com or some other similar software to keep track of your tasks."
With both screen shots and an example of going down this path, the article tries to explain the necessity for good management of the entire process in the form of an organized workflow. The post encourages both the concept of scaling your workflow by batching, as well as using key delegations to others (if you can afford to do so) to maximize your productivity and prevent becoming overwhelmed.
The later part of the post goes over resources that an aspiring podcaster can include in the management of content creation — namely, other podcasters, colleges, key software, sites online to get help from possible freelancers (with some examples), etc.
---
For this podcaster, creating a workflow is something that should be paramount in the early stages of planning and creating your podcast content. For myself, this idea was very important and was discussed when another podcaster was interested very much in my workflow during an interview in 2010 (that podcaster was Daniel J Lewis of The Audacity to Podcast Show). And it was at this time that the real significance and importance of a good workflow became paramount to my content creation — so much that it helped me to create, launch and publish over 16 different podcast shows at the same time that year, as well as creating 5 more podcast shows since that year until the present day. And while there were no posts like this one during the early stages of the podosphere with these suggestions, I was able to create my own workflow (having been a professional project manager during my career as a systems engineer in corporate America) that was very similar. And I still use this workflow today as part of my productivity in podcasting, so that I can be as prolific as I want while creating content that has VALUE for my listeners.
So we hope that this post can give you some ideas in creating your own podcast workflow, and thus you can become more successful with your podcast show and its episodes.
Thank you for your attention.
Copyright (c) 2022, Matrix Solutions Corporation and michaelandmike.com and rss.com. All rights reserved.