Podcast: Play in new window | Download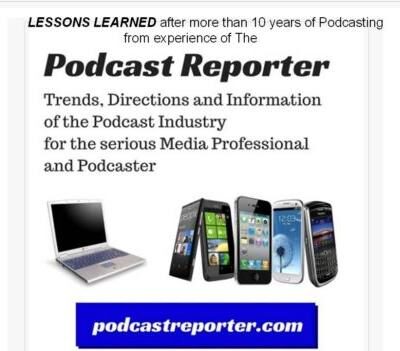 In this episode of The Podcast Reporter show, we deliver some thoughts about the FUTURE OF PODCASTING. Now, we do this from both the perspective of myself as a podcaster, as well as include some thoughts from a post. We introduce that later we will reflect ideas from a podcast show with both co-hosts of Dave Jackson from The School of Podcasting show, along with Daniel J Lewis from The Audacity to Podcast show.
---
But here, in this episode, we look at the internet post from jupitrr.com dealing with the trend to the future of the podosphere and podcasting is called "What is the future of podcasting?"
This post presents and discusses both current trends and 5 tips for a podcaster to prepare for the second half of 2023 and beyond. And there is a bit of content to elaborate on each of these in the post. We recommend that you review each of these for their relevance in your world of podcast shows.
Here are the TRENDS:
Creators have more control over their audience;
Private podcasting with a subscription model;
Short-form audio;
Social media as a distribution or hosting channel;
Podcasting as a means of marketing.
---
By looking at the explanation given for each trend in the article, you may see if your show will be ready for the future and able to withstand any changes that may come forth to challenge you in podcasting. One of these is the FORMAT of the show, both in length and tone.
For myself as a podcaster, I firmly stand on the micro-cast model of having an episode be 10 minutes or less — and that is most of the time, for there are no absolutes in podcasting. The article states: "Future of Podcasting is about bite-sized content, and shareable video formats."
The future growth of this medium will also skyrocket, especially as more people now understand podcasting and can easily begin their own shows to promote their content — whether as a hobby or in trying to monetize:  "Studies show that the number of active podcasts and available episodes are continuing to climb, with over 2 million podcasts and over 48 million episodes available as of 2021 (Podcast Insights, 2021)."
Podcasting has already earned a spot in both communication and distribution of content for companies, and now is highlighted as a medium for marketing. And they usually begin with producing what are called "intra-casts" — that is, producing podcasts for their employees and stakeholders:  "A recent survey found that 70% of companies are already using or plan to use podcasts for internal communication. With the rise of remote work, podcasts offer a convenient and engaging way for teams to stay connected and informed."
---
In addition to the trends, these are the 5 tips that are given to you about podcasting's future for you as a content creator:
Always have an email list of your audience: a key to building strong relationships and promoting your content across different formats effectively. 
Interact more with your power users or audience: Engage with your listeners regularly, know what they want more from you. Being interactive also makes your audience feel they have your attention.
Try short-form video podcasts: Experiment with shorter, bite-sized audio content in both podcast and video formats. This format is well-suited for social media and can help you reach new audiences.
Distribute on 5 social media channels: Don't just pick one or two at first. Experiment. Experiment. Experiment. Then, narrow down to the ones that perform best for you.
Build your audience as early as possible: Building an audience takes time, so start early and focus on consistently producing high-quality content. Growing your audience has a multiplier effect, remember also to take advantage of the organic reach of new platforms like Instagram Reels.
So, thus, we reflect on the trends and tips given by this article.
In a future podcast episode, we will explore the perspective of two of the pundits and podcasters from the podosphere since 2005 (Dave Jackson and Daniel J Lewis), since we will reflect on the content of their show as co-hosts when they discuss THE FUTURE O.F PODCASTING.
Thank you for your attention.
Copyright (c) 2023, Matrix Solutions Corporation and michaelandmike.com and jupitrr.com. All rights reserved.