Podcast: Play in new window | Download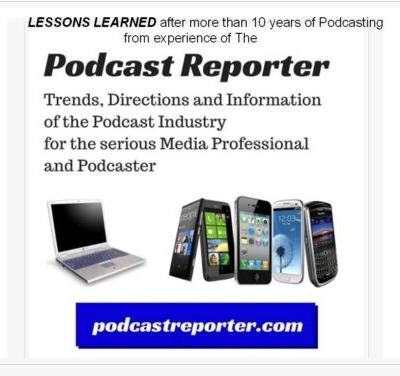 In this episode of The Podcast Reporter, we contemplate on some possible lessons learned from the experience of D-Day on June 6, 1944. And this is especially memorable, as this episode is being published the day before the 77th anniversary of Operation Overlord — i.e., the invasion of France in World War II (both the airborne and the sea-landing operations).
(1) You should not plan everything to the nth detail and not budge for any reason — as this may cause delay and unnecessary frustration of correcting the content over and over again. Some thoughts on this are:
Daniel J Lewis tried to edit his initial podcast episodes so that they would be absolutely perfect — but this led him to delay launching his show and posting episodes for over a year. This delay was really a negative blot on his history and it just slowed down his success.
If you fall for this type of negative situation, you would then be subject to the syndrome that Charlie "Tremendous" Jones (a sales and motivational speaker) calls the "Production to Perfection" model. If you have this type of situation, then you may NEVER get around to publishing your relevant content. Because the content can go stale, your edits may not become relevant and never be used. Why? Because you will be saying to yourself "Just one more tweak; oh, and another tweak…" and then your episode may never see the light of day, because perfection is something that does not really exist in our worlds.
In D-Day, the plans were so extensive that this military operation was the most detailed project in the history of the world (with a close second being the Apollo 11 project — the launch to the moon in 1969). But when the paratroopers landed in the flooded fields, and when the beaches were hit with the landing barges — then all the best laid plans of the allies were worthless. It was the initiative of the landing forces and the paratroopers that changed their plans to suit the new situation that saved the day for the Allies.
So, too, can your podcast shows be "just good enough" to publish, and then you can chalk up the learning that you have from your current episodes to improve the next episode and use that experience to help your workflow and practices become better. You will see that your audience will be understanding, especially if your show is new. Thus, get started when you feel it is appropriate — and NOT perfect — and publish your episodes. You don't want to wallow in the podosphere aimlessly when your perfect planning seems to go wrong and you must adapt to the conditions of reality for getting your show off the ground and improving it for the next episode.
(2) You should be open for new and changed ideas, in spite of plans that have gone wrong, to continue your show with good content.
In D-Day, the American 4th Infantry Division landed on the wrong beach. Did this stop the advance? Not in the least. As the Assistant Division commander said on the beach when confronted with the possibility that the reinforcements may land on the correct beach and not the wrong beach: "The reinforcements will have to follow us, no matter where we go. We are starting the war from right here. Let's go inland." (dialogue taken from the book and the movie from Cornelius Ryan's content of The Longest Day).
So, too, you can learn and adapt from the situations from which you learn when you are thrown into a new area that you did not plan for, and when you encounter new possibilities. You may end up telling yourself that this is where you start, and you can then incorporate new experiences into your workflow and content creation, content publication and content promotion and marketing.
And there are other instances where either serendipity or a rude awakening can ignite new and better ways for you to deal with the speed-bump or road-block that you may encounter in podcasting.
We hope that these lessons from D-Day can help you to adapt any potential derailment of your podcast plans and help shape them into a new workflow that will not only improve your podcast development and publication, but also help to make you a more successful podcaster.
Thank you for your attention.
Copyright (c) 2021, Matrix Solutions Corporation . All rights reserved.