Podcast: Play in new window | Download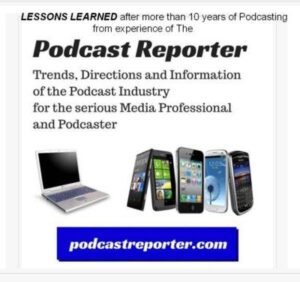 In this episode of The Podcast Reporter, we discuss  the theme of the mindset of the arrogance  vs the leadership quality of contemplation and possible change or pivoting. This deals with the brash boldness  that leads to a type of cowardice by not wanting to communicate vs. the bravery of the critical thinking that knows how to communicate and LISTEN — and how this can make the difference sometimes between success and failure for our own podcast shows.
We get this theme from the episode of the podcast show called The Accidental Creative by Todd Henry, where the topic is called "Bold vs. Brave Work, and 3 Elements of Brilliance."
---
In Todd's recent episode from The Accidental Creative, we get examples of brash boldness — i.e., the stubborn and tyrannical type of leader that decides which direction to take (and it may be against conventional wisdom or even contrary to any suggestions that formal or informal advisers may give that individual). A clear example of this can be as exaggerated as Adolf Hitler in WWII, when he refused to even listen to his advisers and generals (especially toward the end of the war), mainly because he felt he was history's greatest military strategist with his past conquests. And in today's modern environments, it could be the age-old leader that literally flies by the seat of his pants (i.e., his "gut feel" that made him successful, in spite of his own wrong decisions and actions). This type of individual would not listen to anyone — in fact, that individual would be most comfortable in dictating orders and activities, regardless of the possible outcomes or even against advice that was given with data and logic to back it up.
However, today, the element of bravery would command the element of communication and listening to advisers, studying the past and logic in making decisions and steering directions for your business.
As Todd elaborates in his podcast episode:
"This week's podcast episode is about the distinction between boldness and bravery.
Bold leaders speak in declaratives, while brave leaders are willing to wade through the discomfort of seeing nuance.
Bold leaders identify scapegoats as the source of their problems, while brave leaders take accountability for their own thoughts and actions.
Bold leaders scream against events happening in their circle of concern, while brave leaders focus on what's in their own circle of influence.
Bold leaders listen to what they want to hear, brave leaders listen to what they need to hear and are willing to change their mind when confronted with new information.
In the face of uncertainty and chaos, it's tempting to act with boldness, but now more than ever our world needs bravery."
---
As a podcaster, you may want to continue with the old ways of putting together your podcast episode and moving your show in the same direction that you have been doing so for the past 16 years (for those of us who started podcasting in 2005-2006). Since your processes and your practices have worked well until today, this may seem like the "safe" way to proceed. And you may consider doing the same without thinking about changing or modifying your show, because things have been fine so far. In this case, perhaps you may be acting like a  podcaster with boldness. Others may even use the term "conventional wisdom" when describing you.
However, a brave podcaster may want to learn about new tools, new processes, new procedures and even experiment and test new ideas to see if he can improve his podcast show. He may seek the feedback for some newer ideas on workflow or methods from some pundits or some colleagues that may help to make his podcasting better (which is the mantra delivered by age-old podcaster and disrupter, Evo Terra of podcastpontifications.com).
So, we recommend that you should try to pause before implementing some processes and procedures and determine if you may be acting like a bold or brave podcaster — and then perform the cost-benefit analysis for trying to extrapolate the possible results for your show, to see if they will bring your podcast show success.
Thank you for your attention.
Copyright (c) 2021, Matrix Solutions Corporation and michaelandmike.com . All rights reserved.