Podcast: Play in new window | Download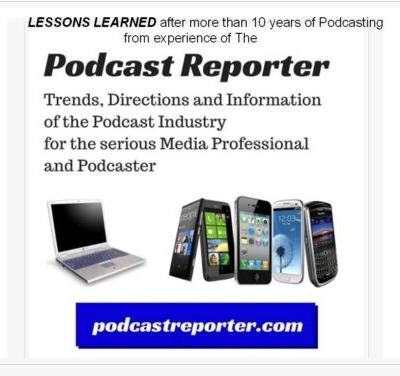 In this episode of The Podcast Reporter, we focus on the value of meetings and conferences for entrepreneurs as a result of this virus crisis of 2020 — especially since face-to-face or inbound meetings have always resulted in high value and returns for attendees or participants.
This episode is from the original point of view of this entrepreneur and podcaster — and we zero in on the podcast events and conferences of the past 15 years, with its ROI and value delivered as a result of participation (either as an attendee or a panelist in a session or as a presenter, etc.).
My background with events spans over 40 years — 30 of them in corporate America as an employee of a large multinational, and over 19 years as an entrepreneur. I had attended many events as both a demonstrator and attendee, as well as a presenter in the USA and other countries worldwide. So I have had plenty of experience in what is called "Events Marketing" and have seen the development of new practices and techniques and skills for events — both inbound and outbound (or virtual).
However, with this new plandemic of the virus crisis of 2020, most of the events have been canceled or shut down for the remainder of the year 2020. And even though some of the larger ones tried to reschedule for the latter part of the year, it was still evident that the ROI for the hosting organization of the event would not be realized, and so a cancellation and/or postponement was the only alternative.
Recently, I had participated both as a speaker and an attendee in the podcast conferences — from the New Media Expo (that dealt with all new media, such as blogs, video, screencasting and podcasting, etc.) to the Podcast Movement conferences, etc. And before then, I participated as demonstrator, speaker and attendee at the smaller inbound conferences such as the Podcasting events (e.g., the original Podcast and Portable Media Expo) and smaller Podcamps, etc.
---
So the question is: now that events have had to switch to a virtual "venue" over the internet, what value has been lost and what value has been gained?
Value Gained — especially ROI
The best part of the virtual conference is really a boon for the bean-counters — or for your budget, if you are a solo-preneur. That is, the SAVINGS in hard dollars that would have been spent in travel, lodging, food, laundry, transportation to and from the event, and other costs associated with inbound conferences that required an entrepreneur to go to an outside venue either to the other side of town or clear across the country (or even another country). The ROI possibility is greatly improved.
In addition, for HEALTH and HYGIENE reasons, the inbound events also save the entrepreneur from virus and health problems. This could be from the air circulated on an aircraft to and from the venue, to the hand-shaking, to the crowds at the event, and to the close proximity of demonstrators in the exhibit area when one is getting a demo of a product or getting information, etc. So there is no problem of contracting any colds or flu or other viruses (especially in late fall and winter times, such as those events in Las Vegas).
But besides the money saved and NOT spent, and besides the avoidance of hygienic and health threats, what are the OTHER values from avoiding the inbound conference?
---
"Paradise Lost" — especially in relationships and community
You can hear the list of valuable ROI engagements as discussed in recent podcast episodes from Evo Terra of Podcast Pontifications. In this podcast, he discusses the fact that the same type of relationship-building and getting to know someone in person cannot really be duplicated in a Zoom meeting or virtual conference over several days, where the speaker or demonstrator is speaking to a camera and not to a human being.
I agree wholeheartedly with Evo on that account. The last inbound conference I did attend was the Podcast Movement 2020 Evolutions event in Los Angeles (just before the lockdown occurred). I was able to re-energize with some of my fellow podcasters, as well as get to know some new contacts in person. The value and the nature of the relationship was unique only to person-to-person engagements and cannot be duplicated over the network with poor quality (as in zoom) or via a one-on-many presentation with poor audio and video. The Q-and-A portion of a virtual event cannot compare to asking a question live in front of the speaker or guest, and then later on catching that individual in the hallway or in the session room to get a one-on-one discussion, as well as handing a business card and asking for an interview, etc.
What seemed to be a great landscape and opportunity to derive value for future engagements, products, services, offerings and especially JOINT VENTURES was something which, unfortunately, I seemed to have taken for granted. And I think a lot of us can "resemble that remark" (as said by the cartoon cat, Garfield).
That great part of the in-person meetings and conferences was LOST — in fact, it seemed to me to be a "paradise lost" (as permitted by Milton) to the entrepreneur.
In addition, as a demonstrator, I was able to influence and promote my products, services, offerings, offers and web site, podcasts and other assets to the attendees and reporters of an event in a most influential way (that got good, measurable results) when I was in the exhibit hall of such a conference. And in the virtual world, this is entirely a situation lost.
---
The future and Regaining the value
So how can we regain the value of events in this re-defined normal of the world because of this plandemic and virus crisis, both now and after it is over?
For myself, as an entrepreneur and podcaster, I will continue to be VERY skeptical of the events as they go through their growing-up period of availability over the internet. I have already sat through different events, such as the SHIFT event from the PodcastMovement.com team. And for me, this registered as a very low 2 on a scale of 1 to 10, where 10 is excellent.
That does not mean to say that I will not risk to invest in other sessions or events. I have registered for the upcoming and non-refundable Podcast Movement Virtual conference for 2020, just to see how it is and compare it to other events. While I am hoping to get greater value out of that (comparing it to the Podcast Movement 2020 Evolutions inbound conference), I am not holding my breath — for I forsee some growing pains still going through their evolution, with the attendees as the losers on this end.
Thus, as long as you, as an entrepreneur, can keep a skeptical eye and know what type of VALUE should be delivered to you by these events, you can be a good judge and critical thinker of their worth to you. And you should be able to see how and what type of improvements are occurring in the world of virtual events.
With your eye on lower costs and your desire to obtain VALUE for your time and attendance (and cost from the entry fee or virtual ticket), you should be able to put together what we have always advised — a COST-BENEFIT-ANALYSIS chart with your expected outcomes and results. And with this, you can make a determination to either wait until the events go back to inbound or to receive the VALUE in some other form of delivery, be it by way of virtual conferences, webinars, calls with others on the network, podcasts, screencasts or other media and technologies.
We hope that you can plan for — and receive — the value you deserve after determining whether or not to participate in some way to a virtual event in the near future. As for myself, I will be skeptical, but I will also reach out to take a low-cost risk to see this new paradigm of events for entrepreneurs.
Thank you for your attention.
Copyright (c) 2020, Matrix Solutions Corporation  . All rights reserved.