Podcast: Play in new window | Download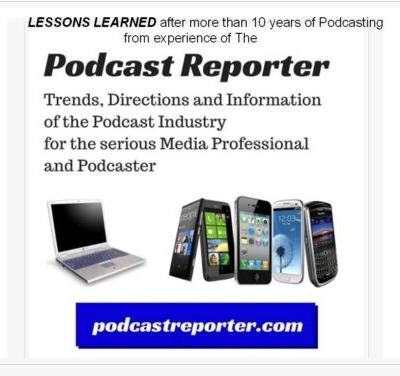 In this episode of The Podcast Reporter show, we deliver a list of some 20 podcast segment ideas from Buzzsprout's newsletter
Of course, the blog post describes these ideas as unique and the "best," but we list them for you, along with their suggested examples and the links, so that you may peruse them decide for yourself, and then see if they can be of help to you.
---
Now, what is a PODCAST SEGMENT IDEA?
In the words of the post's author, Alban Brooke, a podcast segment definition in terms of its benefits is stated:
"A podcast segment is a sectioned-off part of your show dedicated to a certain topic or activity. Adding engaging segments to your podcast format can:
Reduce listener drop-off
Break up blocks of content
Help you switch gears
Make your podcast content more dynamic."
and you can get the entire post at this location:
https://www.buzzsprout.com/blog/podcast-segment-ideas
which describes some twenty " podcast segment ideas to help you come up with ideas for your own podcast!":  [Editorial note: the original typeface and sizes are included, since they will bring about the best references, along with their links]
1. Noteworthy mention
Shine a spotlight on stand-out companies, solopreneurs, influencers, artists, technology, or travel spots. Make sure to highlight people or things that are relevant to your audience and provide value.
Example: Pop Culture Happy Hour
2. Podcast plug
Give other high quality podcasts a free plug on your show. You can include a brief interview with the podcast host, highlight specific episodes, or simply tell your audience why the podcast is worth their time.
Example: How I Built This
3. Listener voicemail
Feature short interviews or voicemails left by listeners. Voicemails can include a short story or testimonial. This is a great way to engage your audience and involve them in your podcast episodes.
Example: Podcasting Q&A
4. Games
Game segments are a great way to increase audience participation. You can include things like improv or trivia. You can keep the games between cohosts, or open them up to listeners.
Example: SaaS Breakthrough
5. Question and answer
Answer a listener question in a segment designed to bring value and create connections. Fielding listener questions can also help you get new topic ideas.
Example: Help Me Be Me
6. Affiliate or sponsor interview
Interviewing an affiliate or sponsor lets your audience know you believe in the product. Featuring affiliates also creates a personal touch that adds credibility to the products and services you promote.
Example: The Birth Hour
7. Tips and tricks
Include a free tip or short tutorial in each episode. Free advice and content is an excellent audience builder and helps foster trust among listeners.
Example: Buzzcast
8. Featured quote or excerpt
Share a short excerpt or inspirational quote from an article, book, or other piece of content. Just make sure whatever you chose offers value to your listeners.
Example: Pop Culture Happy Hour
9. Flashback
Recycle old content with episode flashbacks to review points you made in the past. This type of segment also lets you update outdated information.
Example: How I Built This, The School of Greatness
10. Sneak peek of premium content
Listeners are more likely to check out your bonus content if they get a sample of it. This segment also gives you an opportunity to direct traffic to your Patreon.
Example: The Big Ones
11. Ask the audience
Ask your audience a question that lets them share their experience. This lets you connect with listeners and hear what questions they have so you can more valuable content.
Example: How I Built This
12. Latest news in your field
A podcast news segment can feature political news or just current events related to your topic. Sharing the latest happenings in your field establishes yourself as a go-to resource and keeps your content fresh.
Example: NPR Politics Podcast
13. Listener comment, tweet, or review
Engage your audience on social media and keep track of interesting comments, reviews, or tweets. You can highlight noteworthy feedback to help build your reputation as a podcaster.
Example: Brand Party Podcast
14. Random fact of the day
Take a deep dive into your show's subject matter and highlight fun facts and tidbits. Segments like these are a fun way to explore a specific topic and share unique facts.
Example: The Eric Metaxas Show
15. Issue a challenge to your audience
Create a unique hashtag for listeners to use on social media to encourage interaction among listeners. Hashtags help to continue the discussion about your podcast topic, raise awareness of your show, and attract new listeners.
Example: Help Me Be Me
16. Product reviews and recommendations
Highlight helpful products and services related to your podcast show's topic. If you've built trust with your podcast listeners, they'll appreciate a relevant, honest recommendation.
Example: Buzzcast by Buzzsprout
17. Book or pop culture review
Review content related to your podcast's topic. You can review a new book, podcast episode, radio show, movie, or even a YouTube video. Highlight the parts you found valuable to help your listeners.
Example: Pop Culture Happy Hour
18. Guest interview
Podcast interviews don't have to take up a whole episode. You can feature short, occasional interviews and work them into your regular content. Don't feel like you have to interview only famous people. You can also choose lesser-known guests that deserve more recognition.
Example: Buzzcast
19. Episode recap
It's helpful to recap your episode to make them easy for listeners to digest. End your show with a brief review and give your audience a few bullet points of your content's most salient takeaways.
Example: NPR's Life Kit
20. Tell a story
You can share an interesting story with your listeners whenever you want. But, giving a short its own segment helps it stand out and be more memorable.
Final thoughts
Incorporating segments into your content can help keep listeners engaged for an entire episode. Just remember to keep segments relevant and valuable to your audience.
You can keep track of your podcast stats to see how your segments affect listener engagement!
Alban Brooke
Alban Brooke is the Head of Marketing at Buzzsprout and the co-host of Buzzcast. Have any questions about this guide? Reach out on Twitter.
---
We hope that these ideas for podcast segments can help you to improve your own podcast episodes, and that these will add up to making your podcast shows more successful.
Thank you for your attention.
Copyright (c) 2022, Matrix Solutions Corporation and Alban Brooke and Buzzsprout.com and michaelandmike.com. All rights reserved.