Podcast: Play in new window | Download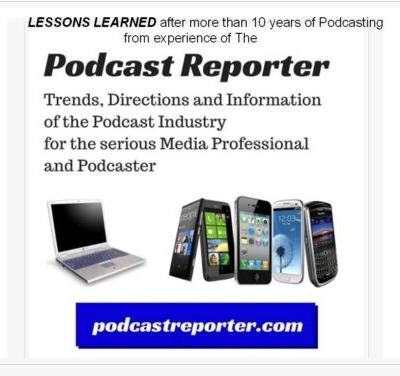 In this episode of The Podcast Reporter, we discuss an earlier post this year by thepodcasthost.com with the theme of: "12 Podcast Barriers facing New Creators."
Unfortunately, that theme is still prominent in the activities for podcasters — especially new podcasters and aspiring podcasters. And this post by author Jared Easley does try to address these situations.
In summary, these Barriers are listed as:
[Lacking] Self-confidence — "self-doubt can lead to procrastination";
Who[m] to trust;
Getting Started;
Coming up with a name for my show;
Pressing RECORD;
Staying motivated;
Equipment;
Editing;
Marketing;
Guest hunting;
Engagement (i.e., "getting listeners to engage");
Monetization
At the end of this post by Jared Easley, he asks the reader "So what has been holding you back?"
As a podcaster, perhaps you can use these as a checklist with which to review your own podcast shows and see if you appear to be weak in any one of these or some of these. And if so, you can then put a plan in place to strengthen them. And, of course, Jared has his experience as a podcaster from which to draw in order to try and assist the podcaster in getting over the barrier. And he does provide some detail for each of the barriers listed, with some of his suggestions.
---
I have known the author, Jared Easley, since his founding days in 2014 in the creation of Podcast Movement.
And I would suggest that these suggestions are eternal ones and evergreen ones for new and aspiring podcasters. Perhaps you may see if any of these barriers apply to yourself — or, as Jared asks at the end of the post, ask yourself what OTHER barriers may apply. And then you can put a plan in place to improve your skills in the areas that need work, so that they will no longer be a barrier to you at any time in your podcasting career.
Thank you for your attention.
Copyright (c) 2021, Matrix Solutions Corporation and michaelandmike.com and Jared Easley and podcasthost.com. All rights reserved.