Podcast: Play in new window | Download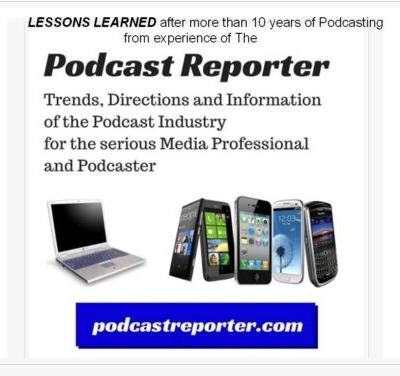 In this episode of The Podcast Reporter, we discuss a recent post by Ben Krueger of cashflowpodcasting.com titled "8 Podcasting principles to make your show world class" by Marc Guberti.
In this post, the theme of being "world class" is proposed. Now, as arrogant and nebulous as this sounds, a world-class podcast is very subjective at this time, because who is determining what a world-class podcast should be and how is this class defined?
In fact, this post has no visible details, but merely a series of links to the sections of the content, among which are the following:
Here are the key links from the episode:
Marc's Links
5 Day Podcast Launch Mini Course
From $0 To $100K+ With Content Marketing
Marc's books
So I had to go to the next sections of the post, which were:
Coming up with the right idea;
Podcast launch checklist; and
Launching your podcast.
And the image of Marc with his "Breakthrough success" baseball-type cap is featured at the end, as the article and post becomes nothing more than a glorified sales-page throughout for his five-day launch mini-course.
The final section of info dealing with the topic "From $0 to $100K with your content" as depicted in his "content marketing plaza" page is nothing more than a long squeeze-page with the 8 principles:
Content creation hacks
Content marketing hacks
Social media marketing hacks
Product creation hacks
Funnel hacks
Relationship creating hacks
Conversion hacks, and
Outsourcing hacks
---
Now, for this podcaster, I only saw the titles of min-courses in the squeeze page that I just described. And, of course, you cannot see the quality of the content from his post, because each of these "hacks" requires the reader to purchase the mini-courses from the squeeze page. And with the $197.00 USD price tag for this "training," this was the biggest turn-off for someone who wanted to see the VALUE of what was being promoted and how it could help me (the podcaster) , rather than just be given a sign-up-sales-page from the very first reading. Unfortunately, the reasons and the sentence or two descriptors were cliches that did not fulfill my expectations.
And so I closed the links and chose to place this into the category of "sales" pages without showing the value of the product. To me, having been involved with sales for over 33 years, this was something I would not ever recommend to another podcaster, let alone investigate any more on my own.
However, if you wish to investigate this more on your own to see if you can find any value in this promotion, then I do wish you well. In fact, the only reason that I looked at this "ad" was because of the name of Ben Krueger. But I venture to say that, for myself, I can never reclaim the five minutes of investigation time from looking into these links.
In any matter, I would like to thank you for your attention.
Copyright (c) 2020, Matrix Solutions Corporation and Ben Krueger and Marc Guberti. All rights reserved.