Podcast: Play in new window | Download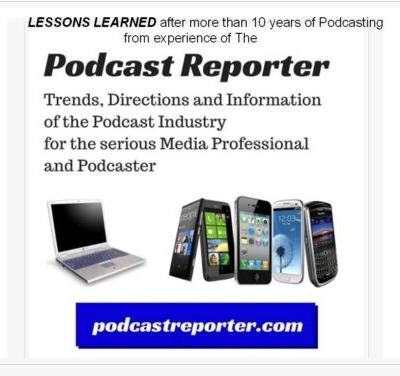 In this episode of PodcastReporter.com, we focus on an article written recently by Steve Pratt at Pacific Content called "Podcasting's Secret Sauce…REVEALED!"
Now, although this may sound like a lot of hype, this evergreen content may be useful and be of value to the new and aspiring podcasters who need to understand WHAT TO DO toward making their podcast show more successful — and more important, what NOT to do (or keep on doing) so that the show does not stagnate.
So, for the past 15 years of my experience as a podcaster or involved in the podosphere, I have seen many a book or publication or blog or have listened to many a podcast episode about what to do to "guarantee success" in podcasting. And this goes all the way from the 2013 episodes of John Lee Dumas when he emphasized the secrets of getting on the iTunes "New and NoteWorthy" listing and visuals to the courses that can just about convince you to quit your day-job and go into a full-time successful career in podcasting.
However, many of the so-called self-appointed pundits did not really call their strategies a "secret sauce." As a matter of fact, the course that I took myself as a teleseminar and audio sessions was that by Paul Colligan called Podcast Secrets in 2007-2010. And this was really a business course that taught you how to design a business for creating a profitable podcast. And it did work for those interested into putting in the time, the trouble and the continuing effort to update, to nurture and to pursue the work of maintaining and growing the podcast show.
As you will read in the blog post from Mr. Pratt, many podcasters started in 2005 with the idea from The Field of Dreams movie that "if they build it, they will come." Well, podcasting is one environment where they will NOT come if you build it — not with over a million shows giving stiff competition and with problems in discovery for your show.
You have to create strategies to plan, to record, to publish, to promote, to monitor and to nurture your podcast show and all its episodes — and also to be able to update your show from feedback resulting from the results of your show to improve over time and grow your audience. And also, you can do the same for any revenue streams that are created from your podcast.
And this article from Mr. Pratt allows the reader to consume the areas needed for the management of the podcast — from creation to nurturing, and then to go on to the follow-on strategies in case you have to pivot, due to the business conditions or other unforseen circumstances (e.g., the virus crisis of 2020).
He considers the "easy" tasks for the new podcasters to be the following (very much like the old television ads of the 1960s called "the lazy man's way"): "In podcasting, here are some of the things that are easy:
Record an extended interview or conversation and don't edit it
Publish your podcast on a wide variety of platforms
Promote your podcast by writing a single, easy cheque to a single publisher
If you only do the easy things, you're much more likely to end up in the Field of Nightmares. You will build it and no one will come."
---
But then you can see the different points that Mr. Pratt gives for seriously considering the effort in making your podcast successful — i.e., what he calls his "secret sauce."
Among these are nine different elements that contribute to success. For, as he will tell you, "If you do this type of hard work, you will build something great and tell all the right people about it. They will come and they will listen. There is no EASY button."
Now, what is my perspective after having been a podcaster for nearly 15 years? I would strongly suggest that you reflect upon each of these elements and see if you have thought through and created plans and strategies that can help you to monitor the success of each one, just to ensure that your podcast is going in the right direction — whether it be a profit-making podcast or a hobby podcast or even a corporate podcast.
Although they seem to be overly simple and easy, please note that the most simple plans are usually the most difficult ones to create, implement and monitor to a successful conclusion. As I emphasize again from the article, you may have a lot of buttons for your business, but in the world of successful podcast shows, "there is no EASY button."
I wish you the best in generating your strategies and putting in the hard work to create and implement your podcast and find your own "secret sauce" to success.
Thank you for your attention.
Copyright (c) 2020, Matrix Solutions Corporation and Steve Pratt at blog.pacific-content.com. All rights reserved.