Podcast: Play in new window | Download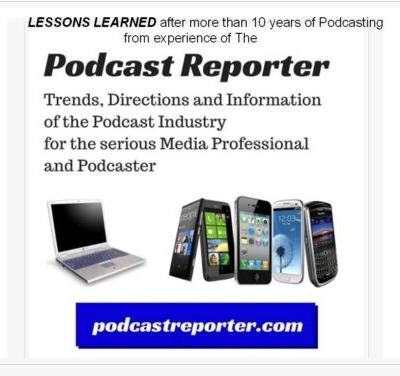 In this episode of The Podcast Reporter, we discuss the announcement of a podcast show that will be more than just episodes — it will have dialog, a community for conversations and interactions, as well as feedback and creativity. This new podcast is a re-incarnation of the prior podcast show from earlier years by Todd Henry (the podcaster from The Accidental Creative since 2005) and it is called The Daily Creative.
Now, this announcement proclaimed the arrival of the published book by Todd in September of 2022. Why, then, is he launching this podcast and this project for more than a year ahead?
Well, he wants to give his audience a chance to consume the book one episode at a time in the podcast space as the book is being "written." And for a mere $50 per year, the audience member can join and receive the nuggets one episode at a time. And this offer to his audience members has been available since July of 2021. What a new way to monetize content for a podcaster!
Is this a new trend?
Not really.
I had commented about his earlier podcast show of The Daily Creative from an earlier episode in this series (episode 102) that was titled "Daily Podcast Show — will it survive?" 
And this episode was first published in November of 2018, with the growing trend of a daily episode in a podcast show. And the content of this 6-minute episode tended to focus on the resurrection of the daily episode of a daily podcast show — yes, THE DAILY CREATIVE by Todd Henry. And I did subscribe to this podcast show in 2018, until the podcaster went on a long break after just over 100 episodes that were published and promoted daily (Monday-Friday). And here was the discussion of the content of this episode:
And I did mention some other daily episode podcast shows in the brief history of the podosphere in that prior episode.
---
Now, when I received the episodes of the 2018 The Daily Creative, I saw that they were 5-to-10-minute episodes from Todd Henry. But they were very similar to a prior project in the 2006-2009 time frame, in which Todd had a premium content podcast with episodes. The project was called "AC Engage" — especially since the topics were so very similar and possibly with more details. And there were close to 150 episodes to this program. So now this seemed to be yet another opportunity for monetization with repurposed content.
Thus, for me, this new 2022 project of THE DAILY CREATIVE podcast is really the 3rd generation of Daily thoughts from Todd Henry, which indeed, he is monetizing for a suggested further audience. First, there was AC-Engage, then The Daily Creative podcast show of 2018, and now, The Daily Creative book, community and podcast of 2022.
As for this podcaster, I find the thoughts motivating and insightful and they do deliver value to both the podcaster and the entrepreneur who struggles with creativity (e.g., new media, podcasting, screencasting, video, blogging, etc.).
I would probably recommend the daily thoughts given in this newly announced series to both the podcaster and entrepreneur — for the value could be great, especially if they have been updated and enriched with the environmental challenges for the last 3 years.
So, I hope that you do find value in either written chapters of the book, or the blog or emails, or the audio podcast episodes of the 2022 The Daily Creative podcast — and that you can improve yourself to become more brilliant, more prolific and more healthy as an entrepreneur and podcaster.
Thank you for your attention.
Copyright (c) 2021, Matrix Solutions Corporation and Todd Henry and michaelandmike.com. All rights reserved.