Podcast: Play in new window | Download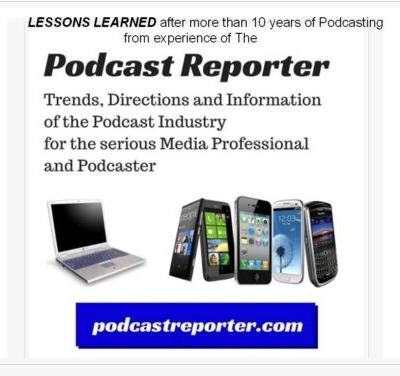 In this episode of The Podcast Reporter, we review a recent post from thepodcasthost.com titled "How to make a Podcast Media Kit:  Make a media kit to engage listeners, reviewers and sponsors, using some basic journalism concepts!"
Now, for this podcaster, I have been involved with the creation of my own podcast media kit since 2006. I created a very simple one and brought it to the Podcast and Portable Media Expo in Ontario, California, for the conference where media kits were very new to the Podosphere and very few podcasters had them. In fact, the only podcaster who recognized my package as a media kit was Jason Van Orden of Impact podcast (in those days, his podcast was The Podcasting Underground).
I also created various press kits (as they were also called) and media kits in 2007, 2008, 2013, 2014 and 2015. The last one had a CD and fact sheets and press releases and album art and also some written pages for the New Media Expo (when I was announcing a product and another podcast show).
As you will hear in this audio episode, I step you through the sections of the media kit, as explained in the article:
the WHO
the What,
the Where,
the Why,
the When, and
the How
of your podcast.
I also give my own experience in having PRESS RELEASES created and included in the media kit — this critical so that the news outlets also know when you are launching your show or when it was available and some words of positive review. Included would be both hardcopy and softcopy of any positive podcast reviews of your episodes — as this would be a favorable mention that would catch your individual's eyes.
So, we strongly encourage you to consume the article and check to see if your strategy incudes a media kit. I would strongly suggest both a hardcopy folder with all the hardcopy contents and CD and USB thumb drive with the softcopy elements. And remember, if the individual does not wish to accept the hardcopy folder, then the USB drive with the contents is a great alternative.
And most importantly, you should plan and schedule to follow up with the key individual so that you can get feedback on the content of your media kit — this should then deliver to you an honest review of your kit and the effect that it could have on the intended audience. We hope that this is great and positive, and that it can be one tactic that can help to make your podcast a success.
Thank you for your attention.
Copyright (c) 2020, Matrix Solutions Corporation and thepodcasthost.com and Lindsay Harris Friel. All rights reserved.