Podcast: Play in new window | Download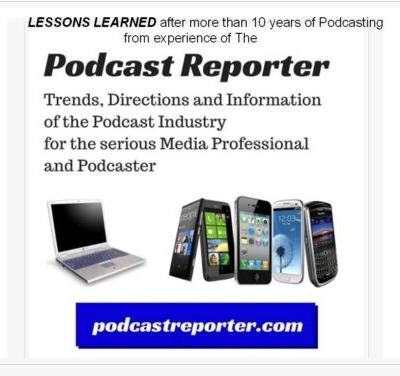 In this episode of The Podcast Reporter, we discuss an earlier post by Ben Krueger, a podcaster at cashflowpodcasting.com,  in which he posts the text by Adam Crookes in which the latter addresses the age-old topic of podcast studios. He gives some recommendations on how to set up a podcast studio as potential ideas.
Now, as I have stated many times before in this show, I do respect and admire the value that is delivered by Ben Krueger, as I have known him and interviewed him since the time I personally shared a booth with him the exhibit hall of the very first Podcast Movement conference in Dallas in 2014. So I thought that this would be a great topic to explore once more and get his perspective. However, I got some words from a guest post from Adam Crookes. And my perspective of the post follows after a brief summary of the article.
---
Summary of the Post
Now, for those interested in creating your own studio, the article gives you thoughts about what is required as food for thought:
Estimating the costs of setting up a studio;
What is required for the studio?
How do you set up a studio in your home? And the post then gives you a list of items and tasks required for your in-home studio:

Here's a list of equipment you should consider for your podcast studio:

"Computer
USB or XLR microphone
Audio interface
Mixer
Windscreen or pop filter
Microphone stand
Headphones
Acoustic treatments"

Then the post delves into the question about whether or not you can start your podcast shows with just your phone;
And finally, what is addressed is the age-old question about whether a podcast show is worth it to both you and your audience;
Then the article suddenly jumps into the subject of the necessity of headphones when starting a podcast;
And then a key question ends the post by asking if it is free to start a podcast on Spotify.
For these questions, I feel that this article, written by Adam Crookes, leaves out a lot of other key questions and statements that a new or aspiring podcaster needs to investigate before setting up a studio. One of these would be testimonials from those who have successfully set one up and are currently podcasting and reaching their success in their objectives at the time. Another would be the time it takes for a podcast studio to be written off or get a good ROI for your business, should you be creating a business podcast.
---
All in all, I find that this post does little in awakening a coherent target of your mind to investigate fully what is involved in setting up your podcast studio (other than the equipment and physical preparation of your home studio). I know that Ben Krueger would have addressed this topic with more research, more details, and with some personal and third-person experiences of successful podcasters who have set up their own studios and are showing great results from it — or experiences that did not see the studio succeed in the business.
One item you may want to explore is the Podcasting Business School site, where the main theme is to treat your podcast like a habit, but to grow it like a business. Within the 200 episodes so far, the podcaster did cite a few minutes on building a home studio for podcasting.
---
For myself, I have been a podcaster who has done remote reporting with adequate tools for the past 16 years, as well as have had a "podcast studio" (or a place where I record my podcasts with guests or by going solo) in several sites, from California to Texas in inbetween (including hotel rooms when I have been traveling and in transit). I will address the key areas that I propose for a studio in a later episode, as I will share with you my experiences for doing so.
Thank you for your attention.
Copyright (c) 2022, Matrix Solutions Corporation and michaelandmike.com and Ben Krueger and Adam Crookes . All rights reserved.