Podcast: Play in new window | Download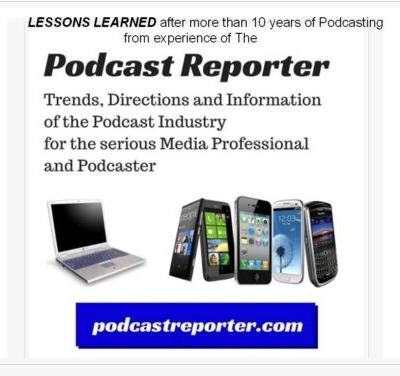 In this episode of The Podcast Reporter, we discuss a recent framework for podcasting which Ben Krueger of cashflowpodcasting.com described in his post and email called "5-Step Framework for Podcasting Success."
Ben's framework for podcast success involves the following five simple steps that can be summarized by a single word or two each:
Envision – Outline the podcast concept using 8 Podcast Principles
Decide – Choose style, frequency, title, branding, and call to action
Record – Get your equipment set up and create your episodes
Setup & Launch – Build your foundation and put it out there
Systemize & Grow – Streamline ongoing tasks and growth
Now, although this may seem trite and oversimplified, these steps involve multiple tasks and multiple skills that are required to produce a good, solid foundation for the planning, preparation, production, editing and publishing of your show — and then monitoring and adjusting your show for growth.
However, I find these simple steps to be a good overview of the flowchart that you, as an aspiring podcaster, may want to adopt in creating your show and episodes, and then growing your show. However, please be advised that this post with free suggestions and advice is the prelude for Ben asking you to set up a time and conference where he can be your podcast advisor and get you going on your way to successful growth (of course, for a fee).
---
Now, I have known Ben since 2014, when I met him at the initial Podcast Movement conference in Dallas, Texas, where we were next to each other in the exhibit hall most of the time — and where I first interviewed him. Since that time, I have seen him deliver what we refer to as an "ethical bribe" — that is, a free deliverable (usually advice, or a pdf document, or some tangible recording of a podcast audio file or a video file, or a blog post, etc.) so that you can know that he is a subject matter expert that has been a solution provider. And in this way, he can become a trusted advisor for you (leading him to reach for the platform of a thought leader in podcasting and profitable media content creation).
I sincerely recommend that you subscribe to his emails, his newsletters and see what he suggests — for there are many gems in what he says from his experience and his knowledge that he has had in the past 8 years in the podosphere. And we hope that you will find value in his offers, offerings, deliverables — and yes, in his ethical bribes that will always encourage you to partner with him as your advisor to make your podcast shows better and more successful.
Thank you for your attention.
Copyright (c) 2020, Matrix Solutions Corporation and cashflowpodcasting.com from Ben Krueger. All rights reserved.