Podcast: Play in new window | Download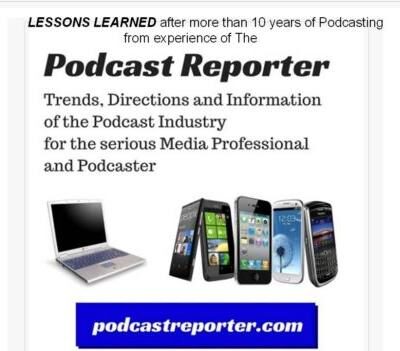 In this episode of The Podcast Reporter show, we deliver some thoughts from a developer and author in Austin named Jason Cohen in which he has a premise that a startup is like a new celebration of life. His article is titled "What a Startup Does to you – or – a celebration of a new life."
Now, I have interviewed Jason way back in the late-2000s when he had an office in Austin, Texas. I had introduced him into the podcast interview world, and we all were able to take advantage of his technical abilities and success with information delivered in the podosphere.
However, in this article, the topic is what a startup means to you — as Jason compares it to the beginning of life (e.g., birth of a child, either son or daughter). As he said in his article:
"People compare building startups with having children. Could that be right? ….
Both spend the first two years of life trying to kill themselves, while you frantically run around doing everything possible to prevent it….
Both are a combination of your own creation and their own direction. They're malleable in certain ways and stubborn in others. Every one is different, even when created by the same parents. Each needs the freedom to find their own way, even if aided and shaped by loving guides. They go through macro-level stages which are predictable and obvious to those who have trod the path before, but also micro-level stages unique to each creation."
Jason compares the two in the amount of time they take, as well as the patience they take.
Yes, a startup for me was the experience that I had to make me state to others who wanted to begin their own businesses. I told them that it takes 24 hours per day, 7 days per week, for at least one to two years before it can be on the road as a "well-oiled machine." And during all that time, the burden of being a startup weighs more heavily on your shoulders every day — that is, until your positive breakthrough results (which may take much longer than you had planned or imagined).
I have always tied in my 18 podcast shows (since 2006) to my startup businesses — and as a podcaster, sometimes the two of them are so intermingled that it is difficult to separate one from the other.
As a matter of fact, I did promote in a prior episode a whitepaper that has evergreen content that describes the top ten issues for me of a struggling entrepreneur. 
---
But in the Jason Cohen article, the main theme is that a startup and the birth of a child are important:
"Both are a crucible.
Meaning, a fiery place that will test your limits, not by probing them but by violently exceeding them, all of the time."
And he goes on to explain. And when your patience is nearly at an end, as well as when a startup appears to be the beginning of a failure that you start to consider as a possible mistake, he continues: " but don't quit when it's hard because winners push through the pain…You've read the words, now you see that they're only words. Words that don't help much, not really. You have to live it."
Jason give you food for thought, and he ends his article with a passage that tends to describe the conflict of thought:
"Awake my little ones, and fill the cup,before life's liquor in its cup be dry.
—Omar Khayyám"
---
Again, from my own experience of having been a serial entrepreneur since 1980, the learning process is a valuable one. And like most of the valuable learning in our lives, the ability to experience the hardships, as well as successes and failures, may be the key to your strength and successes in startups and entrepreneurship.
You may find the comparison some food for thought as a podcaster.
Thank you for listening and for your attention.
Copyright (c) 2023, Matrix Solutions Corporation and michaelandmike.com and Jason Cohen of asmartbear.com. All rights reserved.