Podcast: Play in new window | Download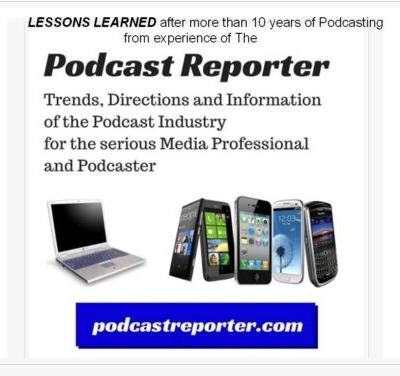 In this episode of The Podcast Reporter, we review the results of a study that focused on podcast interviews. This study was presented by Tom Schwab (someone whom we have interviewed before in this series since 2015). His platform is called Interview Valet.
This study was prepared by Tom and delivered at various conferences. In fact, from the current emails from the Podcast Movement Virtual conference announcing the speakers, it seems that Tom will be giving his presentation at the virtual event. In the past, he has delivered this topic at the Podfest Global Summit as a keynote.
But for now, the presentation slide deck can be obtained for free at the web site for Interview Valet.
---
Now, I have known Tom since 2015. I had even interviewed him in an audio episode in this podcast series about his programs. What intrigued me most about him was that he stated that he did NOT want to be a podcaster and create content in that manner; but that he wanted to grow his prospects and leads by being a GUEST on other podcasts. And so he put together his platform for helping other entrepreneurs become guests on podcasts and then create value in this manner.
As you will see in his free pdf document called "The State of Podcast Interviews – 2020", Tom delivers 16 pages of data from his study to support his programs called "Podcast Guest Profits." And in this deliverable, Tom presents the DATA as he studied it for podcast interviews, including:
The platforms for recording guest interviews and the analytics associated with them;
The best days of the week for guest interviews;
The duration of the cycle from invitation to the actual recording and from recording to posting the guest interview episode;
The breakdown for audio vs. video interviews and even the live interviews; and
Some conclusions for future guest interviews in the podosphere.
If you, as a podcaster, wish to include guest interviews, then this data will be a good resource to begin the investigation of the direction you may wish to take in your plans for podcast episodes. And coupled with other podcast resources and information given by others about how to select guests and then prepare for a good interview, you should be able to create good content that will excite your listeners and deliver VALUE to your audience with the topics which they wish to consume and the experts that will be interesting. And this should help to grow your podcast successfully.
As a side note, you yourself may be called upon to be the GUEST and BE INTERVIEWED. And we have a past audio episode from this series that is delivered by Max Flight on the issues and the preparation of being interviewed:
---
For this podcaster, I had started in 2006 with a podcast guest interview show called The Struggling Entrepreneur, which has unfortunately podfaded after nearly 500 episodes. It has been replaced by a more modern version podcast show called The Struggling Biz. These shows interviewed aspiring entrepreneurs, as well as new entrepreneurs, successful entrepreneurs and those who did not succeed — and each episode presented some lessons learned from multiple angles. We even had interviews with some small business owners that said that they did NOT want to be entrepreneurs, but preferred to stay in their career day-jobs.
So, for myself, guest interviews are helpful for the podcaster — not only in generating interest and delivering quality content, but also in improving your skills as an interviewer, content creator, aspiring journalist and informer (in my case, a Podcast Reporter).
Thus, I wish the best to you in becoming a great interviewer and for creating great episodes in your podcast show with your guests — and in making your podcast show successful.
Thank you for your attention.
Copyright (c) 2020, Matrix Solutions Corporation and Tom Schwab of InterviewValet.com. All rights reserved.